Are you struggling to increase your website traffic?
Don't worry! You are not alone.
Every day a large numbers of new domains are registered.
But do you know most of these sites will be lost to failure in a year or two! And the biggest reason for their failure is low traffic.
Because at the end traffic is everything.
More website traffic = More leads = More Sales = More Money
But frankly speaking, getting traffic isn't rocket science, and there's no need to reinvent the wheel.
Yes, I had also struggled to drive traffic to my website in my beginning days of blogging career.
But With the time, I started learning new techniques and Implementing on my blogs and I've been able to get over thousands of daily visitors in multiple niches.
Today I'm going to show you all the techniques that I use and in fact, most of the successful bloggers use to drive traffic to their website.
💡 Editor's Note:
If you are really serious about increasing your website traffic then you have to make a promise to me – You will take Action!
Often new bloggers read one after another blog post about "How to increase website traffic" or "How to drive traffic to a website" but they never take any action and think that getting traffic is very hard.
No, it is not like that…
If you use all these tactics in the right way then you will notice a huge impact on your traffic.
The key here is to focus on a single tactic, Make it work and then come back to this post and try the next one.
As this is going to be a huge guide, I have broken the traffic generation strategies into multiple categories and added quick links so you can navigate to each section easily.
Just click on any link and you'll be taken to the relevant section.
Quick navigation
1.

Target Long-tail keywords with good search traffic potential
It's no secret that Google looks at keywords to understand the topic of the content.
But the old school keyword optimization does not work anymore.
Today in most searches, at least 50% People use four words or more. This means that just keywords are not important anymore.
You need to optimize your content for long-tail keywords that are specific to the search.
Plus it is also proven that long-tail keywords are much easier to rank in Google than the broad keyword. And of course, when you rank higher for the right term you will get more traffic.
However, a common misconception among bloggers is that Long tail search queries have always very fewer search volumes.
All you need to do is use a good keyword research tool and put some effort to find Long tail keywords with search traffic potential.
I personally use SEMrush for keyword research.
With SMErush new keyword magic tool, it is very easy to find long-tail keywords with good search traffic potential.
All you need to do is enter your main broad keyword into SEMrush keyword magic tool
Then just set the minimum number of words to at least 3 or more and set the minimum volume range to 100.
And here you go…
2.

Optimize Your Content With LSI Keywords
Earlier Google and other search engines use to measure the relevancy of a page to a given search query with Keyword density.
This means if the search engine saw the keyword "SEO" over and over again on a page, they'd believe that the "Page is obviously about SEO."
But with Hummingbird update, Google became much smarter and came with LSI concept to measure the relevancy of a page to a given search query.
LSI (Latent Semantic Indexing) helps Google to understand the search query and content of a web page in the much better way.
Fast forward to 2020, now Google's goal is to figure out a page's overall topic with LSI keywords.
…
So how you will optimize your content with LSI keyword?
As far as I have seen if the content is written by a professional copywriter, then there is a high chance that he or she will naturally add many LSI keywords in a content.
But if you are not a professional writer (Not have years of experience) then take help of a free tool called LSI Graph.
This tool will help you find dozens of LSI keywords related to your topic.
Once you have the keyword, use it in your blog post smartly and you are all set…
3.

Nail Your On-page SEO
Nailing your On-page SEO simply means Optimizing your content in the best possible manner in order to rank higher and get more traffic to your website.
In fact, many professional SEOs say that for most of the terms you can rank in google top 20 positions with Just perfect On-page SEO optimization.
With that here are the few good On-page SEO practices you should always follow:
(a) Include your main Keywords in Title Tag:
The title tag is one of the most important on-page SEO factors.
To optimize it in the best possible manner make sure to include your target keyword in the title. And according to Moz's testing, the keywords closer to the beginning of your title will have more impact on Search engine ranking.
(b) Use SEO-Friendly URLs:
SEO friendly URL simply means – It should be short and include your target keyword.
Good URL vs Bad URL
(c) Write click-worthy meta descriptions for your content:
Meta descriptions are one of the most important and visible elements of your content after the title tag and URL.
If you want to drive traffic to your blog then you should make sure that your meta description is attractive and informative enough to get click in search results.
(d) Drop keyword in the first 100 words:
You should put your target keyword in the first 100 words of your content.
(e) Internal Link your content
You should link your 4-5 old post into your every new post.
(f) Add Outbound link
Add few outbound links that are relevant to your content from authentic sources.
(g) Optimize your images for SEO
Optimizing your texts for SEO is not enough. You also have to optimize your image for SEO.
To optimize your image for SEO – Make sure you are giving a relevant title to the image, adding your target keyword in Image alt tag and meta description.
---
4.

Reduce Your Bounce Rate
Even if people visit your site but they do not stay on your site and act on your call-to-action then that does not make any sense.
And with the Google Rankbrain algorithm, the Bounce rate is now a very important ranking signal.
A higher bounce rate indicates that you are not able to convince your users to stay on your site.
And a higher bounce rate will for sure hurt your SEO and damage your page views.
Here are few quick and easy ways to reduce your Bounce rate:
(a) Write Short Introduction
Just take a look at both these introductions of two different content on the same topic.
Now you yourself tell me – which piece of content you will read.
Of course 'content B.'
So, I guess you have already understood the importance of a short and inducing intro.
(b) Include relevant high-quality Images in your content.
No one likes to read a wall of text in 2020 anymore.
And that's the reason why Youtube is growing super fast.
To make sure that people read your blog post, Include relevant high-quality images.
If possible try to create custom images with the help of Canva or Photoshop tool.
To get some inspiration check out my favorite SEO expert Brian dean's any blog post.
He includes custom-designed images in every piece of content to get more engagement and a lower bounce rate.
(C) Improve Your Content's Readability
No matter how good your content is, If it is not formatted properly and has a lack of readability then it will definitely result in a higher bounce and faster exit rate.
For good readability, first, you need to make sure that you are using a good font and font size is at least 17 px or more.
Plus there should be enough padding, and margin between the text to make it look more beautiful and readable.
5.

Guest Post in the right way to get Maximum Benefit
Backlink profile is one of the Google's most important ranking factors.
Backlinks from authority websites show that your content is gaining industry recognition and providing value to the users.
Which means More High-quality Backlink = Higher Search ranking = More traffic to your site.
While natural link building is the ideal way to build backlinks profile, but this strategy do not work for a new website.
So, how to get backlinks even you have a new website.
"Guest Blogging"
Guest Blogging is a proven technique to get backlinks for your blog.
While most of the people take Guest blogging as a medium to get backlinks so that their posts would rank higher in Google.
But you can utilize this golden opportunity to get instant traffic to your website too.
How?
Look whenever you guest post on someone blog, you generally get a link to your site from the author bio section.
But here you have to agree with me, Most of the people always skip the author bio section (In simple words people do not care who has written the content, all they want is information)
This is where upside-down Guest post strategy which I learned From Brian dean comes in use.
Here is what you actually need to do:
First, write a guest post just like you normally do.
Then include a helpful resource section throughout your guest post.
Include one of your relevant blog posts as a helpful resource.
Here is the practical example of how I used this same strategy on one of my Guest post.
You don't need to always create a helpful resource section to link your blog post in the guest post.
If you write the content strategically then you can get many opportunities to link your blog post and drive traffic to your blog.
Just look at this another example.
This was one of my guest post I did on Ryan's blog "Blogging from Paradise," here I had explained about the benefits of blogging.
Now as you can see in the screenshot, I smartly linked to one of my blog post as helpful resources for anyone who wants to start a blog after reading the guest post.
Drive Traffic to Your Website With with Content Marketing
Everyone says content is king and yes I also agree with the statement. After all, all users are always on the hunt for the valuable content they can learn from instead of seeing random posts full of irrelevant information. So, let's find out how to leverage content marketing in the most effective way to get more traffic.
A while Back Buzzsumo teamed up with Moz and analyzed over 1 million articles.
They wanted to identify the content formats that get relatively more shares and more links.
And they found that the Long form of content gets much more share and backlinks than the short form post with less than thousand words.
If you see the above table, you will notice content with more than 3000 words gets an average 208% more share than short-form articles.
A recent research by Brian Dean confirms the same data.
After analyzing One million search results, he found that Long-Form content Ranks Higher in Google's Search Results than Short-Form Content.
There can be many reasons why Google gives more priority to the Long form of content.
In my opinion, long-form content is written in a detailed way and covers each aspect of the topic deeply, that's why readers and Google both love them.
Note from my side:
Don't write a Long Form of content just for the sake of it. If your content is not engaging and actionable then nobody will read a 5000 words post.
7.

Give your old content a new lease of life
It's a very good practice to Overhaul & Upgrade Old Blog Posts.
Why?
It will improve the user experience and help you get more search traffic.
When your content becomes old and outdated, It becomes less helpful for users and there is a very low chance that it will rank higher in search engines.
Yes, Freshness is a well-known ranking factor, Google gives more priority to content that published or updated recently, especially for topics that change frequently.
So, What blog posts to update?
Open your analytics and find content that doesn't get as much traffic as it used to.
Use a premium tool like SEMrush or free Google webmaster tool to find keywords you are ranking for at google's second page.
Once you have identified which content to Update, Follow this 5-step process to Update it in the best possible manner.
Step 1 – Remove any out-dated information.
Step 2 – Add More relevant content
Step 3 – Add more images and screenshot
Step 4 – Make sure to add LSI and LOng tail keywords wherever necessary.
Step 5 – Rewrite your title and description to signify freshness
Once your post is ready change the publication date to the current date.
Or If your theme supports an option to automatically show updated date then you don't need to do anything.
Like as I use the Generatepress Premium theme (Affiliate Link), All I need to do is add few CSS codes in the custom CSS section of the theme and my theme automatically shows the last updated date whenever I make changes to my content.
8.

Create Infographics to get more traffic
According to unbounce, there is an increase of 800% in the number of people searching for infographics in the last two years
There can be many reasons behind Infographics rising popularity. Here are some of them:
Infographics make content easy to understand
The human brain is wired to remember images more than text
With infographics, you can explain complex things in simpler terms.
Help in attracting new visitors to the site
Promote brand awareness of your business
How to get the maximum benefit of Infographics?
Once you have created an eye-catching infographic with full of information, search for bloggers and influencer who has already published content related to your infographic. And ask them if they are interested in adding your infographics to their content.
This will give you more exposure and more traffic.
9.

Publish More List Posts
When it comes to driving traffic to websites, List posts work very well
Why?
Because List posts stir up curiosity and its title always says that "read me and find exactly what's promised."
Which content you will prefer to read?
I guess most of you will prefer to read the article "A"
And there's evidence to back this up.
Like I was earlier talking about the Moz and Buzzsumo research where they analyzed 1 million articles.
In the same study, they found that List posts format works great compared to other article formats.
As you can see, List post gets 6x more shares than the how-to type of posts.
In fact you can test this yourself.
Go to the SEMRush tool and Enter any of your favorite blog URL.
You will notice that most of their posts that are driving the most traffic to their blog are list posts.
Helpful Resource for writing good List posts:
10.

Get a Quote from the Experts
This is one of the strategies I learned from Ryan Robinson and It has worked pretty well for me.
Here is what I am exactly talking about…
Whenever I plan to write a new piece of content for my blog, I'll send a very normal email to few influencers who are authorities in the area I'm writing about.
And I will ask them for a quote to include in the blog post about the topic I am writing about.
Hello Mary,

My name is Shivam choudhary and I am the Founder of Bloggingnova.com.

I am working on my next blog posts about (topic you are writing about.)

I would love to know your take on (topic you are writing about.)

I highly value your opinion, and I would love to include it in my next blog post.

Thankyou

Shivam choudhary
Frankly speaking, I am not a well-known personality in the industry, so I have to face many rejections.
But as long as at least a few of them write me back, I get a solid contribution for my next blog post.
Because they are generally well-known authorities in the area I am writing about, It automatically boosts my article credibility as well it also has high chances of getting social share from them.
11.

Interview Leaders in your industry
This is one of my favorite ways to connect with successful people in the industry and learn new things from them.
And interviewing successful people in your niche can be a great way to boost your website traffic.
You can check out my Interview category on Bloggingnova, where I have interviewed some of the very successful bloggers.
If you also want to start creating interviews for your blog, here is what exactly you need to follow:
Step 1 – Find out some good successful people in your niche.
Step 2 – Send them an email regarding conducting interviews.
Here is a sample of the email format, I usually use for Bloggingnova.
Hello [Name]

My name is Shivam choudhary and i am the founder of Bloggingnova.

I have been doing a series of interviews with sucessful bloggers and I would love to invite you to be our guest in our upcoming interview.

You have been on my wish list for a while now, and I was particularly impressed with the success you have had with[Website].

I know you must be busy, but please get back to me if you would like to go ahead with this.

Thank you

Shivam Choudhary
Step 3 – Once they agree, Design some smart question and send to them.
Step 4 – Once you get their answers, Format them nicely into a blog post with relevant screenshots and photos.
Step 5 – Once you have published their interview, send them the post link.
Now this name recognition will not only boost your credibility, but it will also help you to expand your reach and increase traffic to your website.
12.

Invite Others to Guest Blog on Your Site
I have already discussed the importance of guest posting on the authority website in tip no 5.
But guest blogging is not just about posting on someone other's site.
It is a two-way street, that simply means In addition to posting content to other blogs, you can invite people in your niche to guest post on your own blog.
But how to invite others to blog on your own blog?
Well, the most common way people often use is creating a separate page for inviting guests writer on their blog.
However, I personally do not like this technique…
Because as long as you don't have a popular authority site, Most probably you will get guest post requests from people who are just looking for a way to get links.
So, it does not make any sense to post those low-quality content on your blog.
But what if I tell you can choose the people yourself whom you want to write for your blog.
Yes, It is possible. All you need to do is select some good peoples in your niche (Not necessarily the very popular one) and send them an email regarding you want them to guest blog on your site.
Most probably he/she will happily accept your invite.
Once the guest post is live, they are likely to share and link to the post, which could obviously bring new readers to your blog.
Recommended Reading: Top 31 Best Google Fonts for WordPress Blogs.
13.

Mention influencers in your posts and let them know about it
As a new niche blogger, you start from scratch but there are already many peoples in your niche who already have influence.
So what should you do?
When you write your new blog post, link out to some other posts written by influencers that provide additional information and complement your blog post content.
How to find those influencers?
Well, you can use an influencer research tool like Buzzsumo or NinjaOutreach to find them,
Once your blog post is live, let them know you have mentioned them in your blog post, don't ask them to share your content.
If they will like your content they will automatically share it with their audience.
Note from my side :
Don't Mention influencers just for the sake of it. only mention them if their content complement the topic you are talking about and actually helps your readers.
14.

Get More Traffic From Your Blog Posts With "Content repurposing"
"Publish more new content to get more new audience"
It was a old school technique…
In 2020, You can get access to new audience even with your old content.
That's great, But how?
Well as we all know, we all prefer different mediums to consume content and learn new things.
While I prefer more written content, you might prefer more audio contents, or someone might prefer more video content.
So, why not repurpose or transform your existing content into a new format and reach new audiences.
All you need to do is take a well-performing blog post and transform it into a video. Or if you have a podcast episode that did really very well then write a blog post about the same.
Transforming content that has already performed very well will continue to drive more traffic to your site.
If you have ever visited Ahref blog then you will notice they are using this same strategy to reach new audiences.
How to Increase Website Traffic Through Social Media
There are now more than 3.5 billion people using social media around the world (roughly 46% of the total popular of the world) So, let's find out how social media can help get more people to your blog or website.
15.

Use Pinterest to get more website traffic Fast
Pinterest can be a great source to generate traffic to your website.
In fact, some of the popular bloggers like Lindsay, Anastasia, Cathrin, Lauren get 70-75% of their total traffic solely from Pinterest.
As far as I have experienced, there is two main reasons why Pinterest is a great traffic source for many bloggers.
Pins have great longevity: When you pin an image on Pinterest, it will continue to get views, repins and link clicks over time. While on other social media platform your new post stays visible only for a short period of time.
Pinterest is all about sharing: Unlike other social media platforms, Pinterest is not about posting status updates or selfies. It's all about sharing and consuming images and, by extension, the content they link to.
So, how to drive traffic To Your Blog With Pinterest?
Step 1: Sign up for a business account on Pinterest.
Step 2: Add your name and Bio (Try to include your main keywords into your name and Bio)
Step 3: Next scroll down and claim your website. Head over to the board's section and create few bords related to your niche.
Step 4: Head over to the board's section and create few boards related to your niche.
Step 5: Apply for Pinterest rich pins this can help you get more reach and engagements on Pinterest.
Step 6: Create Visually appealing Pins for your each blog post and add it in your blog post.
Step 7: Make pinning easy for your readers with the help of an in-image Social sharing plugin like Social snap.
Step 8: Create more pins for each blog post and pin directly on Pinterest on a regular basis.
Helpful resources to get started with Pinterest:
16.

Create a Community on Facebook
No doubt Facebook is one of the biggest social media platforms on the Internet with more than 2.4 billion active users.
And you as a blogger and marketer has always a good opportunity to leverage this platform and get traffic to your website.
How?
Well, one of the most common and oldest ways is to make a Facebook page of your website and every time you publish a new blog post, you should post it to your site's Facebook page.
Special tip from my side –
Create different Featured images and unique headline especially for Facebook. Use an SEO plugin like Rank math which allows you to upload different featured images and headlines for social platforms.
However, this old school facebook page technique does not work for everyone as long as you don't have millions of followers on your page.
Then what should you do?
"Create or Join an Engaging facebook group"
Find and join relevant Facebook groups:
There is a large number of facebook groups you can join that serve to all different niche with thousands of members.
Just do a simple search in the group section for keyword relating to your niche and you'll instantly find a number of quality Facebook groups to join.
Once you are a member you can start interacting with others in the Group.
Always remember that more and more engagements you will make in the group and help people, the more benefit you will get for your blog.
For example:
Almost a year back I joined a group filled with lots of amazing bloggers named "The Bloggers team." This group is created and managed by Santanu Debnath.
With the time I made some very good friends with the help of this group.
And today whenever I publish a new blog post, Sanatanu shares my blog post with all the members in his group.
Do you know the best thing? I never say him personally to share my blog post.
But still, he always does. why?
Because of the connection, we have made with each other through the group over the years.
So the bottom line is, as long as you honestly make engagements and help each other in the group, you will get lots of benefits for your blog in the long term.
Create your own Facebook group:
If you have enough time to manage a Facebook group, Create your own Group.
Building an engaging Facebook community by yourself can be a hard task, but at the end, you will have more opportunities to grow your blog once you have your own engaging community.
Here is my own Facebook group I created Last year,
If you are interested you can Join from here.
17.

Create an Active YouTube Channel
Youtube is now the second most popular site on the Internet after Google.
This means it a gold mine for bloggers and marketers in 2020.
Here's how to drive traffic to your website from YouTube.
Well, first you will need to create an active youtube channel to get started.
Once you have an active channel, you can drive people from Your Youtube channel to your website by creating a bridge between your Youtube Channel and Your website.
What I mean from the bridge?
Well Creating a bridge simply means giving a strong reason to peoples to visit your site.
Here are a few things you can use to create a bridge:
Offer a FREE ebook at the end of the video, Give PDF report, give monthly or weekly plan, invite them to join the course, Share exclusive strategy or case study.
As long as your offer and incentives match your video content, People will obviously visit your site.
Practical Example:–
In this Video Anastasia was talking about Pinterest SEO and as you can see in the above screenshot, she is giving free SEO checklist to her Youtube audience.
Now as this Video is all about Pinterest SEO and her free incentive is also about SEO, there is a high chance that people will visit her site.
Other ways to drive people to your site from Youtube channel:
Add your website link under your channel art
Add your website link in your About section of the youtube channel.
Add your website links into the card of your video.
18.

Syndicate Your Content on Medium
Medium.com is one of the best places on the internet to syndicate your blog content and get targeted traffic.
Here is one of the post I syndicated on Medium.
And below is the overall stats of the article:
It took me only 5 minute to post this on medium and this single article helped me to get more than 250 new visitors for my blog…
To syndicate your own content on medium, Click on "Import a story."
Next, Paste the URL of your article that you want to syndicate.
That's it, Now Medium will automatically uploads and formats your content.
Make sure to have a quick look at your article and check if everything is formated nicely.
19.

Use Linkedin Smartly
Linkedin has become much more than a place for finding new jobs.
Statics shows that the world's largest professional social network has become a valuable content publishing and marketing platform.
According to a research, 97% of marketers use LinkedIn for content marketing purposes.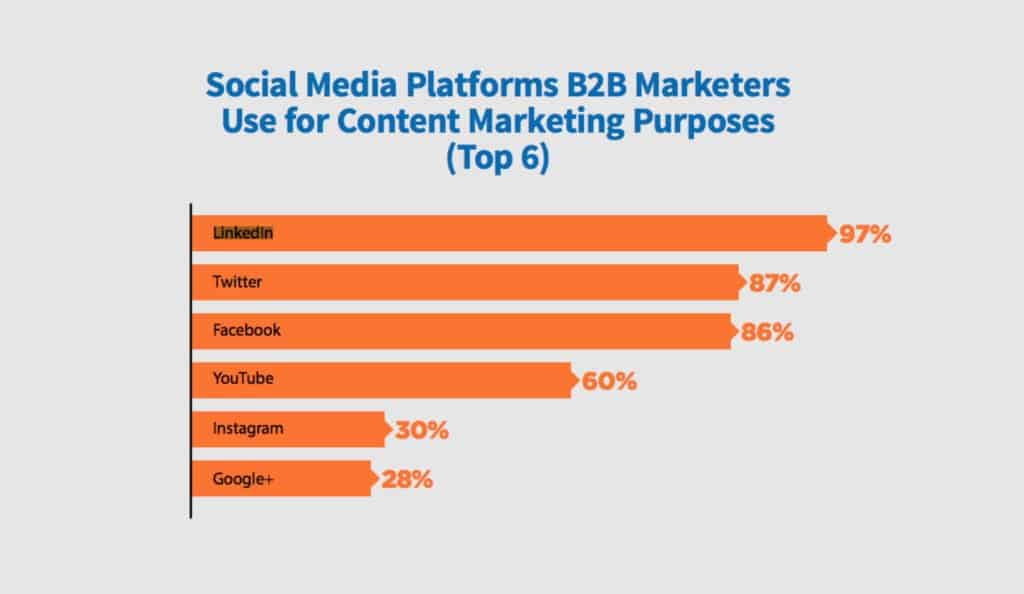 You should consider posting content to Linkedin and make engagements. Doing so can easily boost your website traffic as well as help you build authority in your industry.
You don't need to create new content specifically for Linkedin all the time.
Just take any of your existing blog posts and republish it on Linkedin in a summarize way.
Means if your original article is of 2500 words then try to exclude less important part from your post and post content under 1000 words.
Recommended Reading : How To Choose The Perfect Niche For Your Blog
20.

Standing Out on Instagram
Just have a look at this stats:
1 billion people use Instagram every month
500 million people use Instagram Stories every day
Instagram users will spend an average of 28 minutes per day on the platform in 2020
200 million Instagram users visit at least one business profile daily
By seeing these stats, don't you think it is an awesome opportunity for bloggers like us to leverage this platform!
Unfortunately, this platform can not directly help every type of blogger to drive traffic to their website.
But since Instagram added Business account feature, now every blogger can use this platform wisely and drive traffic to their site.
Helpful resource – 10 Strategies to Drive Traffic and Sales from Instagram
Special tip from my side –
Don't treat Instagram as a Traffic generation machine because it is not designed in that way. Use Instagram to build your brand. If you actively use this platform and build a good following base then with the time you will automatically notice the benefit of using this platform for your blog.
21.

Using Twitter to Create a Loyal Community
Twitter is a great platform to connect with genuine people in your space.
But as far as I have experienced It is not a perfect fit for all types of bloggers to drive traffic to their blog.
It will not make any sense if you are just posting your blog post links on Twitter.
Because it is more a community-building platform and a less traffic generation platform,
Use this platform as a way of building up a loyal audience who will participate in your conversation and eventually people will start visiting your blog in the long term.
Slideshare can easily help you increase your website traffic fast.
It is basically a slideshow sharing site owned by LinkedIn.
But how it can help you get some serious traffic?
Well,, all you need to do is pick any of your existing blog post and turn the main points of your blog post into a Slideshare presentation.
You can recap the main points, and then tell people to click the link to learn more.
And if your slides are interesting then people will definitely click on your link and visit your site.
It's best if you create a "cliff hanger" situation – for instance, if you have ten tips in your article, put 5 of them in the presentation, and tell the readers to check out your post for the other 5 tips.
Special tip from my side –
Try to create a "cliff hanger" situation to get more website traffic.
For Instance, If you have shared ten tips in your blog post to lose weight fast, put 5 of them in the presentation, and tell the readers to check out your post for the other 5 tips.
Drive Traffic by Engaging with Communities
You can easily get more website traffic if you are able to find where your community spends time online and then bring back them to your blog!
23.

Use Quora on regular basis to get more traffic to your blog
If you want to drive more traffic to your website, Quora has to be on your radar screen.
Why?
Because Quora has done a great job of building a very huge audience (around 400 million monthly users) and keeping it engaged.
In fact, Quora has been my third best traffic source for one of my blog.
How quora works?
Quora is simply a question-answer platform, where people can ask any question on any topic and get answers from real peoples.
Let's say someone has just started a blog then he might go on Quora and ask questions like, "How to increase the traffic on my website" and people who provide good answers are heavily rewarded.
Then how to get started with Quora?
(a) Create an account on Quora (It's completely free)
(b) Write an awesome author bio to give a good first impression to everyone.
(c) Follow the topics related to your niche and expertise.
(d) Find questions that have good following but fewer answers (Just go to your answer tabs)
(e) Give a short and simple answer to the question that can actually help everyone.
(f) Include your relevant blog post link in Answer.
(g) Keep repeating the step "d" "e" and "f."
Helpful resources to learn more about Quora:
24.

Carefully engage on Reddit
With more than 1.2 billion monthly site visitors, Reddit is the Larget discussion-based platform on the Internet.
However, from the traffic point of view, it is a little tricky because if you're overtly self-promoting then you will be easily get banned from using this platform.
But that doesn't mean you can't get have success in getting traffic for your website.
Here's How to Get Traffic to Your Website From Reddit:
First of all obviously, you need to create an account on Reddit (It is completely free.)
Once you have a Reddit account, you will be assigned a karma score to start with. Karma score basically shows the strength and authenticity of your account.
You can boost your karma scores by receiving more upvotes on your post and links.
Now to get started, Join few subreddit (Category of posts) related to your niche and expertise. Aim to join subreddits with good number of subscribers and active users.
Now go through each subreddits you have joined to get an idea of what kind of posts people link in a specific subreddit.
Also, try to connect with the community and build rapport with helpful comments on the posts.
Now finally its time to create some great content on Reddit.
Reddit does not work as a primary search engine like Google, so you do not need to give a keyword-friendly title.
You should put titles that actually generate curiosity so that people click and open your post.
Example of a bad title on Reddit:
How to increase your website traffic?
Example of a Good Title on Reddit:
How I Increased My Organic Traffic by 5X in 3 Months?
Note: Also make sure to post when maximum peoples are online and active otherwise your post may end up stacked below fresh posts.
25.

Active in Niche-Focused Online Communities
It is little easy to drive traffic to your website from a niche-focused community than big sites like Reddit.
Why?
Because they have very few limitations on self-promotion than the general forum.
Plus as they are a particular niche focused so it makes them a great medium to reach very specific target groups.
Here are few examples of Niche focused communities.
Hacker News. If you publish articles related to tech, enetrpenurship or marketing then use this community to increase your website traffic
GrowthHackers. If you have published actionable posts, case study or dazzling insights in the field of Growth hacking, this is the place to share them!
How to Increase Website Traffic by Optimizing Your Website
Do you know you can get more people to your site by just optimizing your site? Yes it's true. Let's find out how!
26.

Your Website Design Matters
Believe it or not, but your website design matters a lot in this digital era.
When your audience visits your site, your website design gives them their first impression of your blog or business.
If your website design is unappealing or outdated, your audience will immediately have a negative impression of your website. And most probably they will leave your site in the first few seconds and land on one of your competitor's sites.
On the other hand, you can make a positive impact on your audience in just few seconds with your Good website design.
So no matter how good your content is people will not trust you and your site if it is poorly designed.
Now that you already know the importance of a good web design. Here are few tips from my side to make your site design better.
Invest in a premium theme that gives you option to customize everything of your site. ( I personally use Generatepress premium Theme, You can get more information about it in my Generatepress review)
Make sure you have a solid navigation on your site.
Use a good color combination on your site.
Make sure to use lots of white space in your web design.
If you have not an appealing logo, then hire a graphic designer and make a good logo for your site.
Use a well-designed CTA button
27.

Optimize for Google's Mobile-First Index
Web browsing is no more solely done on desktops, more and more people are using mobile devices to access the web. In fact, a latest research shows that 70% of website traffic happens on mobile device.
And since the majority of users now access Google with a mobile device, Google has also started giving more preference to Mobile site with its "Mobile-First Index" update.
Mobile-first-index simply means, now Google predominantly uses the mobile version of your site for indexing and ranking.
So, how do you know if your site is optimized for mobile or not?
Well Google has also created a free tool to check the mobile-friendliness of a webpage.
This tool use different parameters to test a web page and tells you if your webpage or site is optimized for mobile or not.
Want to know about the best practices for mobile optimization? Checkout Mobile optimization Guide by Dreamhost.
28.

Optimize your content for Voice Search
Voice search is getting bigger and bigger day by day.
In fact, according to ComScore by the year 2020, half of all online searches will be made through voice search.
So in 2020, It is important than ever to optimize your site for voice searches.
Here are few tips to Optimize For Voice Search:
29.

Improve Your Organic Click-Through-Rate
Do you know you can get more traffic from Google even without Ranking higher in Google?
Yes, I am not Joking.
But how?
Well by just improving your click-through-rate (CTR).
For example, Let's say you rank for your target keyword on No 3 Position in the search result and your current CTR is 5%.
and now let's say you doubled or that CTR to 10%
Well, you have just doubled your organic traffic without improving your ranking.
But wait there's more than that…
CTR and search rankings are intimately connected.
(In fact, data suggests that improving your organic CTR by just 3% will move your site up one spot in the SERPs.)
This means if you get a higher CTR, you'll ALSO improve your search engine rankings.
But how do you improve your organic CTR?
Well, here are few practical tips you can implement on your site to get quick result:
Combine your target keywords with emotional triggers to create irresistible headlines
Add numbers in your headline to get more clicks
Test different title for each page and post and check which one has higher CTR.
Write effective meta descriptions
Implement structured data (a.k.a. schema markup)
Use descriptive URLs
Adding social share button to your blog posts and pages will not take more than 5-6 minutes.
But it will definitely help you get more website traffic.
Basically, these social share buttons make it easy for users to share your content with their network and that eventually grow your blog post reach and traffic.
So, how to add social share buttons to your blog.
Well, all you need to do is install a social sharing plugin like Social snap and these plugins will make it super easy for you to add beautiful and stylish social share buttons to your WordPress, posts, and pages.
31.

Speed Up Your Website
Your website speed matters a lot in 2020.
Research shows that on an average website visitors will leave your site if it takes more than 3 seconds to load.
In fact, Google has also officially announced that Page speed will be now a ranking factor.
This latest update makes a site's loading speed a more important ranking signal than ever before.
So, I will recommend you to first test your website speed with GTmetrix.com.
And if your site is taking more than 3 seconds to load then make sure to read my Speed optimization Guide to speed up your site.
More Creative Ways to drive traffic to your blog
Still, reading along with my guide about how to drive traffic to yourwebsite? Great! Now, let's dig into some more creative ways to drive traffic to your blog.

32.

Appear on podcasts
51% of the US population (approx. 165 million people) have listened to a podcast and 22% of Americans (approx. 103 million people) are weekly podcast listeners .
They are very popular and reach a huge audience – So they are are a great way to both increase website traffic and raise brand awareness.
But that doesn't mean you need to start your own podcast show to get benefit from this opportunity.
Instead, you can go on other's podcast as a guest and reach to a new audience base with every appearance.
But how to find good podcast shows for yourself?
Well, do a quick google search for your niche related keyword + the word "Podcast" and see which shows turn up in the result.
Now consider reaching out to the hosts of those shows and let them know you are interested in appearing on their show and how your appearance can give benefit to their audience.
33.

Host Contests And Giveaways
People love free stuff.
(I guess I don't need to tell you why)
But what you might don't know is you can drive more visitors to your site with free stuff.
Yes, you can host contests and giveaways to give your audience the chance to win something. This creates an incentive for people to visit your blog and give you their email.
Here's how to create a viral contest in just 5 minutes:
Step 1 – Choose a great prize to giveaway
Make sure that your contest prize is relevant to your target audience. For instead if I am running a blog about Blogging and SEO then WordPress themes, Plugin or maybe an SEO tool will be perfect contest prize for my giveaway.
Step 2 – Install the RafflePress plugin.
Rafflepress is one of the best giveaway plugin in the market which makes it super easy to create and run a successful contest.
Step 3 – Name Your Giveaway and Choose a Template
First of all, give your campaign a new name and then choose a template as per your need. RafflePress offers just about every type of template you need.
Step 4 – Fill the necessary details
Once you have chosen a template, You'll be taken to a new screen where you'll need to give necessary contest details like the name of the campaign, start and end dates and other relevant info.
Step 5 – Add actions
Now you can finally add different actions for different platforms. Like you may ask users to follow you on social media, refer to friends, share on of your posts, watch your youtube videos, comment on your article or anything else.
Step 6 – Customize your Giveaway
You can also customize your giveaway form. RafflePress lets you change the background color, fonts, and the call to action button, images, etc..
Step 7 – Publish your giveaway
You can publish your giveaway in different ways. You can either create a separate giveaway landing page or Use shortcodes and paste it in any of your wordpress posts
34.

Create Free ebook
The right ebook on a good topic within your niche can become a powerful tool to drive more traffic to your blog.
Just choose a good topic and create a good ebook and then start promoting it to your followers on social media, writing about it in a guest post—and giving your eBook away as an incentive to people who sign up on your email list.
35.

Create Free Online course
Just like an e-book, Free online courses can be another very effective tool to Increase Traffic To Website.
For example, I created a free 5-days email course a while back:
This was basically a series of emails sent out over a period of time that describes a specific topic.
And this single course helped me to get more than 1000 new subscribers. (It's not just about email subscriber, I linked to many of my articles in this 5-days email course and obviously many people has visited my site through those links)
I personally use the Convertkit tool to capture emails and automate email lessons.
36.

Leverage email marketing
Email marketing is an inexpensive, yet effective way to reach your audience and communicate with them on a more personal level.
With social media platforms continuously limiting your reach, email marketing is only marketing channel you can have complete control over in the long term.
With Email marketing, you'll be able to keep driving traffic to your website as long as your targeted audience has subscribed to your list.
However, building a targeted email list can take a long time, so it's important to start building your list as earlier as possible.
The first step to start collecting emails of users visiting your site is adding opt-in forms to your website. (Use OptinMonster to create beautiful optins for your site)
Then use an email marketing software like Convertkit to track and analyze the efficiency of your email campaigns and send emails to your subscribers.
37.

Host Webinars
Webinars are really an excellent way to share your expertise, connect with other influencers, educate your combined audience and at the same time drive traffic to your blog.
To organize a webinar, find few bloggers and influencers who have a high concentration of readers in your niche -then choose a topic that you all are interested in talking about in your webinar – and finally use most basic Zoom account that allows you to host webinars and you are all set.
38.

Speak at a Conference
If you ever get the chance to speak at a conference on a topic related to your niche, don't miss out.
Landing a speaking gig at the right conference can massively help you in driving traffic to your website.
I know it's not that easy for everyone to get chance for public speaking, in that case, I will recommend you to at least attend few conferences every year. It will definitely help you in building network with the big influencers and bloggers in your industry.
39.

Answer queries on HARO
HARO or Help A Reporter Out is a tool that connects reporters with experts.
So, how this tool can help you increase your website traffic.
Well, this is a tool that generally journalists and writers use to find and connect with sources for stories they're working on.
So all you need to do is sign up for HARO's emails in your respective categories and look out for queries you can answer.
If you will give good answers to their questions then most of the time the writer will talk about you and your brand and also include your link.
This will not only help you in featuring in big magazines and online publication at the same time it will also increase your brand awareness and increase site traffic.
Final Thoughts: How to Drive Traffic to Your Website in 2020
I believe I have really covered a lot of techniques here, So first of all kudos to you for making it all the way through this massive guide of how to increase your website traffic.
With thousands of new bloggers jumping into this blogging world each month, it's getting more and more difficult to stand out in this crowd.
But I believe if you are smart enough then you will be able to drive people to your site in the long run.
As I am blogging about "Blogging" from the past few years, I have met so many bloggers who are struggling to drive traffic to their blog.
And do you know what is the most common problem with most of them?
They do not take action at all.
So, I will always advise you that please take action and try any of these techniques for at least a few months consistently and believe me you will definitely see the positive result.
I hope you will find this article on How to drive traffic to your blog helpful…
Now It's Your Turn
Are there any other traffic-driving strategies I missed in this article.
Have you learned any other smart or clever ways to drive traffic to your blog?
Share with us in the comment section.